Anti-terror laws used against the Baloch
News about the Baloch community
Notice
: Undefined index: category_name in
/var/www/clients/client8/web28/web/modules/News/lib/class.news_ops.php
on line
45
Notice
: Undefined index: category_name in
/var/www/clients/client8/web28/web/modules/News/lib/class.news_ops.php
on line
45
Notice
: Undefined index: category_name in
/var/www/clients/client8/web28/web/modules/News/lib/class.news_ops.php
on line
45
Notice
: Undefined index: category_name in
/var/www/clients/client8/web28/web/modules/News/lib/class.news_ops.php
on line
45
Notice
: Undefined index: category_name in
/var/www/clients/client8/web28/web/modules/News/lib/class.news_ops.php
on line
45
Notice
: Undefined index: category_name in
/var/www/clients/client8/web28/web/modules/News/lib/class.news_ops.php
on line
45
Notice
: Undefined index: category_name in
/var/www/clients/client8/web28/web/modules/News/lib/class.news_ops.php
on line
45
Notice
: Undefined index: category_name in
/var/www/clients/client8/web28/web/modules/News/lib/class.news_ops.php
on line
45
Notice
: Undefined index: category_name in
/var/www/clients/client8/web28/web/modules/News/lib/class.news_ops.php
on line
45
Notice
: Undefined index: category_name in
/var/www/clients/client8/web28/web/modules/News/lib/class.news_ops.php
on line
45
Notice
: Undefined index: category_name in
/var/www/clients/client8/web28/web/modules/News/lib/class.news_ops.php
on line
45
Notice
: Undefined index: category_name in
/var/www/clients/client8/web28/web/modules/News/lib/class.news_ops.php
on line
45
Notice
: Undefined index: category_name in
/var/www/clients/client8/web28/web/modules/News/lib/class.news_ops.php
on line
45
Notice
: Undefined index: category_name in
/var/www/clients/client8/web28/web/modules/News/lib/class.news_ops.php
on line
45
Notice
: Undefined index: category_name in
/var/www/clients/client8/web28/web/modules/News/lib/class.news_ops.php
on line
45
Notice
: Undefined index: category_name in
/var/www/clients/client8/web28/web/modules/News/lib/class.news_ops.php
on line
45
Notice
: Undefined index: category_name in
/var/www/clients/client8/web28/web/modules/News/lib/class.news_ops.php
on line
45
Notice
: Undefined index: category_name in
/var/www/clients/client8/web28/web/modules/News/lib/class.news_ops.php
on line
45
Notice
: Undefined index: category_name in
/var/www/clients/client8/web28/web/modules/News/lib/class.news_ops.php
on line
45
Notice
: Undefined index: category_name in
/var/www/clients/client8/web28/web/modules/News/lib/class.news_ops.php
on line
45
Notice
: Undefined index: category_name in
/var/www/clients/client8/web28/web/modules/News/lib/class.news_ops.php
on line
45
Notice
: Undefined index: category_name in
/var/www/clients/client8/web28/web/modules/News/lib/class.news_ops.php
on line
45
Notice
: Undefined index: category_name in
/var/www/clients/client8/web28/web/modules/News/lib/class.news_ops.php
on line
45
Notice
: Undefined index: category_name in
/var/www/clients/client8/web28/web/modules/News/lib/class.news_ops.php
on line
45
Notice
: Undefined index: category_name in
/var/www/clients/client8/web28/web/modules/News/lib/class.news_ops.php
on line
45
Notice
: Undefined index: category_name in
/var/www/clients/client8/web28/web/modules/News/lib/class.news_ops.php
on line
45
Notice
: Undefined index: category_name in
/var/www/clients/client8/web28/web/modules/News/lib/class.news_ops.php
on line
45
Notice
: Undefined index: category_name in
/var/www/clients/client8/web28/web/modules/News/lib/class.news_ops.php
on line
45
Notice
: Undefined index: category_name in
/var/www/clients/client8/web28/web/modules/News/lib/class.news_ops.php
on line
45
Notice
: Undefined index: category_name in
/var/www/clients/client8/web28/web/modules/News/lib/class.news_ops.php
on line
45
Notice
: Undefined index: category_name in
/var/www/clients/client8/web28/web/modules/News/lib/class.news_ops.php
on line
45
Notice
: Undefined index: category_name in
/var/www/clients/client8/web28/web/modules/News/lib/class.news_ops.php
on line
45
Notice
: Undefined index: category_name in
/var/www/clients/client8/web28/web/modules/News/lib/class.news_ops.php
on line
45
Notice
: Undefined index: category_name in
/var/www/clients/client8/web28/web/modules/News/lib/class.news_ops.php
on line
45
Notice
: Undefined index: category_name in
/var/www/clients/client8/web28/web/modules/News/lib/class.news_ops.php
on line
45
Notice
: Undefined index: category_name in
/var/www/clients/client8/web28/web/modules/News/lib/class.news_ops.php
on line
45
Notice
: Undefined index: category_name in
/var/www/clients/client8/web28/web/modules/News/lib/class.news_ops.php
on line
45
Notice
: Undefined index: category_name in
/var/www/clients/client8/web28/web/modules/News/lib/class.news_ops.php
on line
45
Notice
: Undefined index: category_name in
/var/www/clients/client8/web28/web/modules/News/lib/class.news_ops.php
on line
45
Notice
: Undefined index: category_name in
/var/www/clients/client8/web28/web/modules/News/lib/class.news_ops.php
on line
45
Notice
: Undefined index: category_name in
/var/www/clients/client8/web28/web/modules/News/lib/class.news_ops.php
on line
45
01-09-2010
"Did you know where Balochistan is the first day you came to this court?" I asked the jury. "Now you know where it is, and what's happening to our people there." Read the article here.
24-04-2009
A meeting hosted and chaired by Baroness Helena Kennedy QC with speakers to include: Gareth Peirce, human rights lawyer; Hyrbyair Marri; Faiz Baluch; Peter Tatchell, human rights campaigner.
11-02-2009
Baloch terrorism trial "not guilty" verdict
Jury acquits defendants framed by Musharraf regime
Defendants Hyrbyair Marri and Faiz Baluch vindicated
Under the Terrorism Act 2000, two Baloch human rights activists were prosecuted for supposedly supporting terrorism in Balochistan.  The trial revealed joint efforts by 'security' agencies in the UK and Pakistan to silence dissent against Pakistani state terrorism.  The defendants were acquitted in early 2009.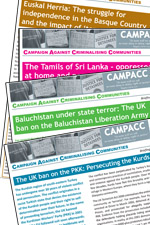 New CAMPACC briefing on Baluchistan under state terror: The UK ban on the Baluchistan Liberation Army (Dec 2010)

---